Pathology Consultant Support
We do our best to keep testing simple and our reports detailed. But medicine is rarely straightforward and an answer often leads to another question.
We are a laboratory owned and operated by doctors. We understand how important it is sometimes to just pick up a phone or send an email and have doubts turned to clarity and understanding. We are a patient focussed people service as much as we are are a lab service.
We also realise that our clinic or pharmacy partners don't always have a doctor acting as an intermediary and may need a little extra help when giving their own patients advice. That's us.
Our Consultants & Doctors review and report on every test we do.
What to do if you have a question?
Find out more about our pathology consultant support team below: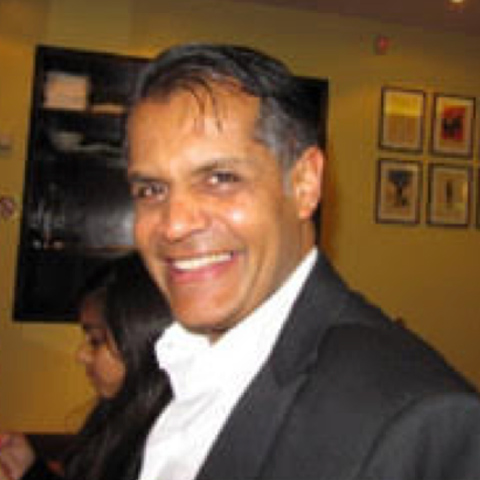 Dr Kaushik Patel - BMedSci, MB ChB, FRCPath
Consultant Medical Director & Cellular Pathologist
Dr Kaushik R Patel is a Fellow of the Royal College of Pathologists with over 25 years' experience as a Consultant Cellular Pathologist in the NHS and private sector.  He obtained a bachelor's degree in medical sciences related to pathology and a medical degree from Sheffield Medical School (1987).  He undertook postgraduate training in Sheffield, Watford and Leeds prior to being appointed as a Consultant Cellular Pathologist at Queen Mary's Hospital, Roehampton (1996) and subsequently transferred to Kingston Hospital (1998). He has served as lead in a variety of pathology disciplines including Cellular Pathology, Cervical Cytology Screening for the NHSCSP (including Hospital Based Coordinator) and has been a Designated Individual for the Human Tissue Act. He has extensive experience in the provision of cellular pathology diagnostic and cancer screening services and has a particular interest in IT related to pathology and in quality assurance systems. As well as being a general histopathologist, he has a specialist interest in gynaecological pathology and medical histopathology including liver diseases.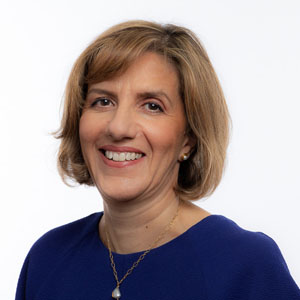 Dr Elli Demertzi - MD PhD FRCPath
Consultant Microbiologist
Dr Elli Demertzi qualified from Athens National University Medical School, Greece (1989), gained a PhD in Clinical Microbiology and completed her specialty training in Medical Microbiology, Pathology in Athens. She undertook post-doctoral research in Molecular bacterial typing in PHLS, Central Public Health Laboratory, London (1999-2000).
She is a Consultant Microbiologist and Lead Infection Control Doctor at Kingston Hospital NHS Foundation Trust. She has over 20 years experience as a specialist in Infection diagnosis and management with interests in molecular diagnostics, Point of Care Testing, nosocomial infections and OPAT.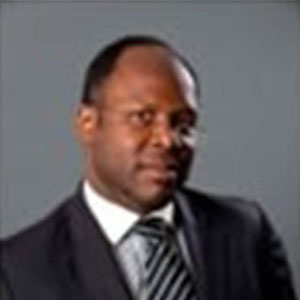 Dr John Bolodeoku - MBBS, MSc, MBA, DPhil, FRCPath
Consultant Chemical Pathologist
John is a Chemical Pathologist and Pharmaceutical Medicine Physician starting working in the NHS as a Senior House Officer in General Medicine in Seacroft Killingbeck Hospital, Leeds and Sutton Hospital, Senior House Officer in Chemical Pathology in St. Helier, Registrar in Chemical Pathology at St Helier and St Georges Hospital Medical School, London. Pursued a Doctorate in Molecular Pathology at the John Radcliffe Hospital, Oxford, returned to London as Senior Registrar/Lecturer in Chemical Pathology at the Royal Free Hospital Medical School, London. He completed specialist training in 1997 in Chemical Pathology, then worked as Locum Consultant Chemical Pathologist at Farnborough Hospital and in 1999 was appointed Honorary Consultant Physician (Cardiology-Lipids) at North Hampshire Hospital, Basingstoke where he holds outpatient clinic sessions. He started working in the pharmaceutical industry in 1997. Over the years he has held positions in Clinical Research and Medical Affairs in several companies in the UK and Europe: BIOS (Consultancy & Research Organization), Pfizer, Yamanouchi, Astellas, Daichii Sankyo, Biogen Idec, Roche, NAPP, ICON Solutions, Eli Lilly and Celgene. Currently, he provides pathology consultancy and pharmaceutical medical marketing services to laboratories, pharmaceutical and device companies. He has a passion for "bringing diagnostics closer to the customer" and integrating diagnostic and pharmaceuticals. He loves Point of Care Testing (POCT) and self testing devices.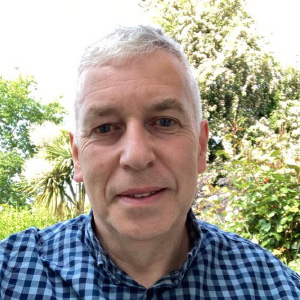 Dr Peter Muir - Bsc, PhD, FRCPath
Consultant Clinical Virologist
Following undergraduate studies and a PhD at Edinburgh University, Peter Muir took up a research associate post at St Thomas' Hospital in 1985, and became a lecturer in 1996, working mainly on the development of molecular diagnostic assays for clinical virology. In 2002 he moved to the PHLS (now UKHSA) in Bristol, taking up a clinical scientist post in Virology, and undertaking FRCPath in 2006. The role currently includes clinical and public health service delivery, laboratory oversight and development, senior management, training and research. Externally Peter is involved in training, examining and assessment with the Royal College of Pathologists, National School of Healthcare Science, Association of Clinical Scientists and Academy of Healthcare Science. Outside of work, Peter is married with one son, is an elder in a local church and enjoys DIY and gardening, both at home and on the allotment. He has extensive experience in clinical and diagnostic virology and is an author of over 150 peer reviewed journal articles.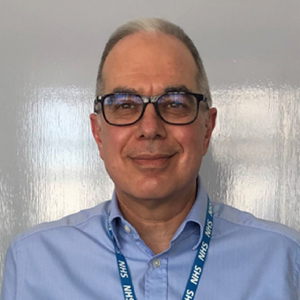 Dr Simon Stern
Consultant Haematologist
Dr Stern has been a Consultant Haematologist since 1999, initially at Surrey and Sussex Healthcare NHS Trust, and since 2010 at Epsom and St Helier University Hospitals NHS Trust. Since 2018 he has been an Honorary Consultant Haematologist at the Royal Marsden Hospital NHS Foundation Trust. He has a broad clinical experience in all aspects of clinical and laboratory haematology, but his main interests are in the field of the haematological malignancies. He has been Clinical Lead for Pathology at both the Trusts at which he has worked, and for 3 years was Lead Clinician for the joint haemato-oncology multi-disciplinary team involving Epsom and St Helier, the Royal Marsden and Croydon University Hospitals. He is currently Clinical Lead for Chemotherapy at Epsom and St Helier University Hospitals NHS Trust.
Externally he is Chair of the UK Myeloma Forum Guidelines Group, and also a member of the British Society for Haematology Haemato-oncology Task Force and the Myeloma UK Early Diagnosis Steering Committee.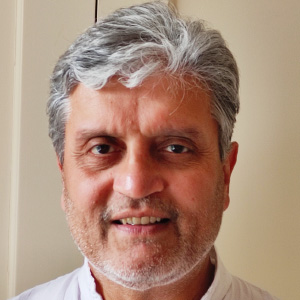 Dr Amolak Bansal - BM DRCOG DCH MRCGP FRCP FRCPath FRCPA FRACP DM
Consultant Clinical Immunologist
Dr. Amolak Bansal is a Consultant Clinical Immunologist who obtained his medical degree from Southampton in 1982, following which he received training at the Hammersmith Hospital, University Hospital of the West Indies in Jamaica, Aberdeen Royal Infirmary, and Manchester Royal Infirmary. After completing this, he held positions as a senior lecturer/consultant in clinical immunology at the University of Queensland's Princess Alexandra Hospital in Brisbane, Australia, from 1993 to 1997. From 1997 to 2018, he served as a consultant in clinical immunology and immunopathology at St Helier and Kingston Hospitals in Surrey. He also held the honorary position of Senior Lecturer at St George's Hospital Medical School, where he contributed to medical education and training. He has conducted extensive research on autoimmune disease, allergy, primary infertility, and chronic fatigue syndrome. He actively participated in medical teaching and led the Sutton CFS Service from 2005 to 2018, focusing on the diagnosis and management of chronic fatigue syndrome.
We work with cutting-edge, high-quality products from the following companies